Fort Lauderdale- Hollywood International Airport FLL
Address: 100 Terminal Dr, Fort Lauderdale, Florida, 33315, USA
Phone: +1 (866) 435-9355
Email: contactfllr@broward.org
FLL, the Fort Lauderdale airport, is  ideally located in the heart of Broward County, close to the Broward Convention Center and Fort Lauderdale downtown. It is also minutes away from Port Everglades which makes catching your cruise a breeze if you fly into FLL. Located 30 to 45 minutes away from Boca Raton, it is one the most used airport by our customers. The airport is easy to access and makes it simple to drop off and pick up our customers. There are meeting points that are labeled inside of every terminal making an inside pick up simple as well.
Airlines like Southwest, JetBlue, and Norwegian have made it a focus city. It is also a hub for airlines like Spirit and Silver Airways. 
Check FLL's Arrivals and Departures for the latest flight information.
Travel to/from FLL easier
A couple of trusted traveler programs can help you skip the lines at security. The first and most popular option is TSA PreCheck, a government security program that will take you to a short dedicated queue at the airport.
Another option is CLEAR, an independent program for trusted travelers that includes both fingerprints and retinal scans. You can check in online and complete your airport membership.
U.S. citizens and residents traveling to FLL  internationally can use the Mobile passport application. With this application, you can provide your passport and customs declaration information through your smartphone or tablet. This mobile application will also help to reduce waiting times in the line and, importantly, allow travelers to quickly get their luggage.
Special amenities: 6 lactation suites, pet relief area.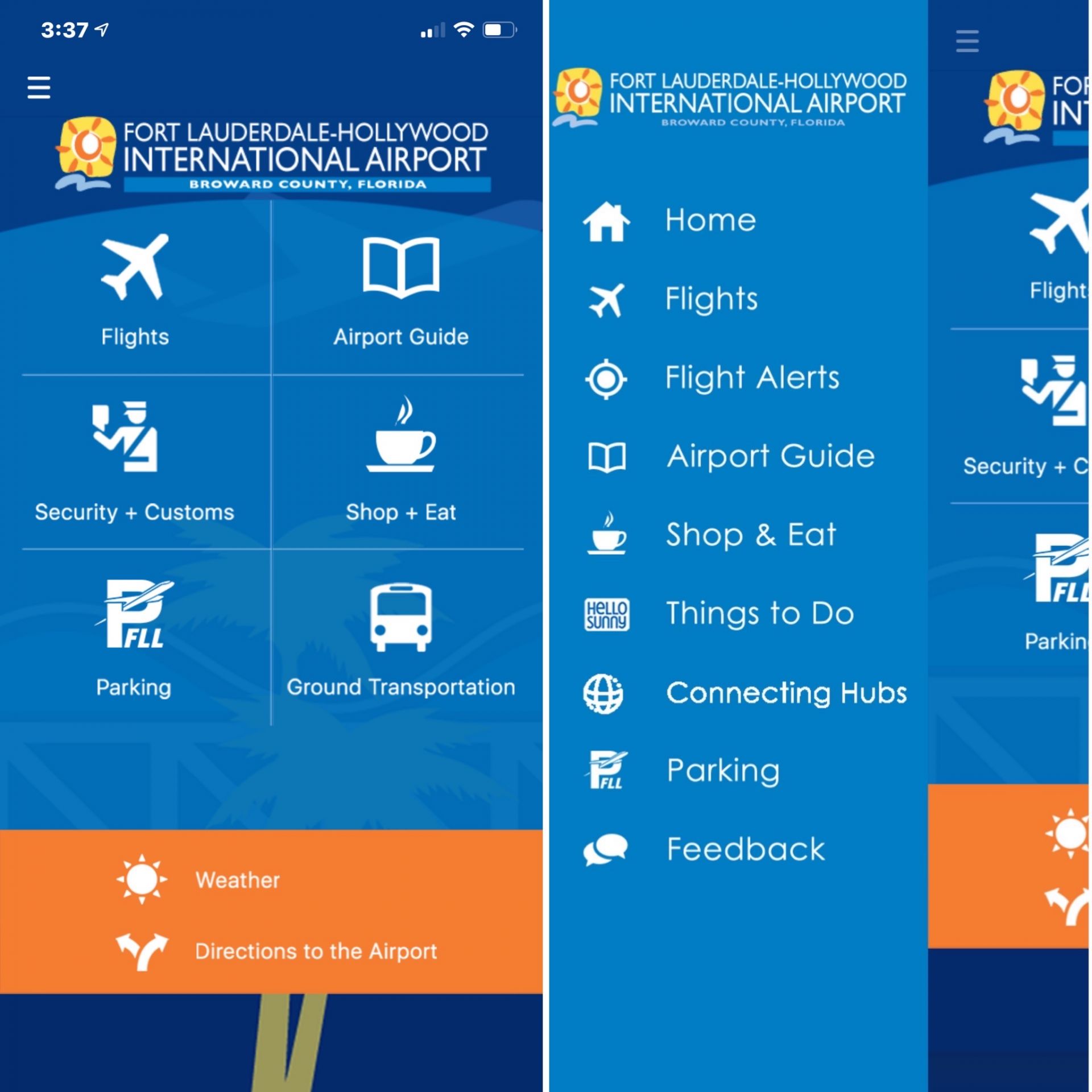 Download the free FLL Airport app and get information about flight,  parking, where to eat and shop, and an airport guide.  The app will inform you about the local time and temperature, how to get to the airport and things to do in Greater Fort Lauderdale.
Terminal 1 Yellow "New Terminal"
Has 18 gates and three concourses, A, B and C. It has 23 boarding gates.
Bahamasair, Copa Airlines, Swoop – Departs A 
Southwest – Departs A and B
Alaska, Allegiant, Silver, United, WestJet – Departs C 
Terminal 2 Red "Delta" Terminal
Has 9 gates and Concourse D.
Air Canada, Delta – Departs D
Terminal 3 Purple "Main Terminal"
Has two concourses E and F with 20 gates.
American, Azul, Norwegian – Departs E
JetBlue – Departs E and F 
Emirates – Departs G
Terminal 4 Green "International Terminal"
Has two concourses G and H.
Air Transat, Sunwing – Departs E, G
Spirit – Departs E, F, and G
Avianca, Caribbean, Frontier, IBC, SkyBahamas, TAME – Departs G