Miami International Airport MIA
Address: 12100 NW 42nd Ave, Miami, FL 33142.
Phone:  +1 (305) 876-7000
Miami International Airport (MIA) is located about five miles north of Downtown and 13 miles west of Miami Beach, it is about a 15- to 20-minute drive from most parts of the city. Often referred to as the Gateway to Latin America, MIA is a main connection for flights to the Caribbean, South America and much of Europe. 
Check MIA's Arrivals and Departures for the latest flight information.
MIA is a U-shaped airport with parking situated inside the "U" and the departure concourses on the outside.
There is 1 large terminal building that is split into the North Terminal, Central Terminal, and South Terminal, however, all terminals are interconnected by moving walkways located on Level 3.
Within each terminal, arrivals and baggage claim are on Level 1, departures and ticketing are on Level 2, and access to terminal connections and the MIA Mover is on Level 3.
North Terminal (Blue) – Concourse D
The main hub for Caribbean and Latin America services.
Boarding gates: D1-D60 (45 gates).
Airlines: American Airlines and American Eagle.
Central Terminal (Yellow) – Concourse E, F, and G
– Concourse E: E2-E11, Satellite gates: E20-E20, E30, E31 and E33.
Airlines: American Airlines, British Airways, Iberia, Interjet and Qatar.
– Concourse F: F1-F23
Airlines: Aeroflot, Aer Lingus, Air Europa, Air Italy, Avior Airlines, BOA, Cayman Airways, Eurowings, Finnair, Flair Air, Miami Air, Sunwing, Surinam Airways, Swift Air (IAero), TAP, TUIfly, Volaris, Westjet, World Atlantic, XL Airways France.
– Concourse G: G2-G19
Airlines: Aruba Airlines, Bahamasair, Eastern Airlines, Frontier Airlines, Sun Country, United Airlines.
South Terminal (Red) – Concourse H and J
– Concourse H: H3-H17.
Airlines: Aerolineas Argentinas, Aeromexico, Air France, Delta Air Lines, GOL, KLM, Turkish Airlines.
– Concourse J: J2-J18.
Airlines: Air Canada, Alitalia, Austrian Airlines, Avianca, Caribbean Airlines, COPA Airlines, El Al, GOL, LATAM, Lufthansa, SAS, Swiss International, Virgin Atlantic, Viva Air.
TSA PreCheck
There are dedicated TSA PreCheck lanes at some security checkpoints at MIA:
Concourse D Checkpoint 2
Concourse D Checkpoint 3
Concourse H checkpoint
MIA has a TSA PreCheck Enrollment Center located pre-security at the east end of North Terminal – Concourse D on the 4th floor, so you can apply and arrange an interview the next time you're at MIA.
Global Entry
MIA has Global Entry kiosks for eligible passengers who have enrolled in the program. If you have been conditionally approved and need to arrange an interview, MIA has a Global Entry Enrollment Center in Concourse J on the 2nd level. The office is open from 8 a.m. – 10 p.m. daily.
MIA participates in Enrollment on Arrival at Concourses D or J, so passengers can complete an interview at MIA without the need to make an appointment.
Mobile Passport
MIA accepts Mobile Passport Control for passengers arriving in the U.S. from an international flight.
Eligible passengers must complete the "new trip" section within the app on arrival at MIA and present both your electronic receipt and passport to a CBP agent.
CLEAR
The CLEAR Security Program is available at Checkpoints E and H at MIA.
Special amenities
MIA has 12 airline lounges, most of them are only for premium class passengers or eligible credit cardholders. There is an interactive children's area called "Plane Fun" where kids  can listen to real conversations between pilots and the control tower and pretend to be air traffic controllers.  Private nursing suites can be found in each concourse. MIA does offer outdoor and indoor pet relief areas. There is also an interfaith chapel.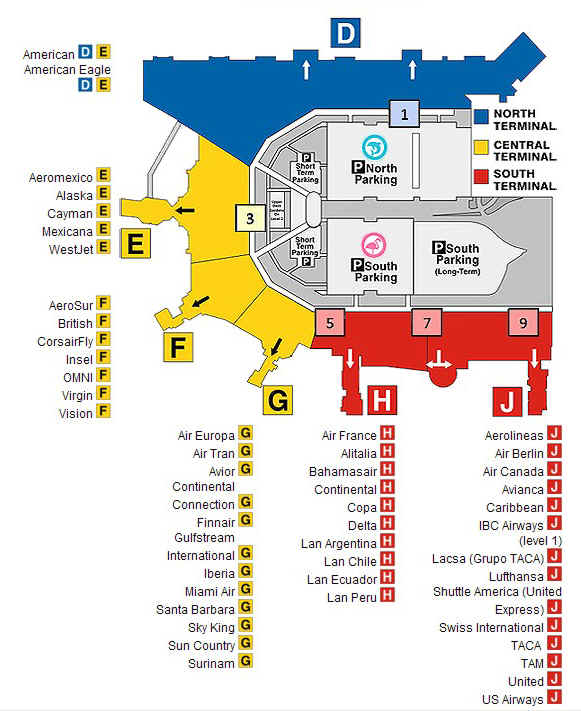 Diamond Coach Limousine & Airport Transportation reviewed Miami Airport on Google Maps:
"The Miami International Airport is a little more difficult to navigate than the next closest international airport in Fort Lauderdale. MIA is a much bigger airport with many airlines flying in and out of it at all hours. This is an airport  we would recommend one leave with plenty of time, especially if you are not familiar with it. There are a few highways and local roads that provide access to this airport which is convenient, however it is time consuming since there is usually a bit of traffic in the surrounding areas due to its location. Like we mentioned before there are a lot of airlines that use this airport so that is another reason to leave your self some time to navigate it and find your airline. There are several terminals at this airport and the amount of traffic going in and out will cause delays. Parking is a bit of an issue at this airport. It is usually very busy so there have been many times were we couldn't find parking closest to the area we wanted to park by."